FREE DELIVERY!
Call (732) 477-2388
Fax (732) 477-2630
or
ORDER ONLINE!

748 Mantoloking Road
Brick, NJ 08723
Welcome to China Express II!



~ Today's Trivia ~

Both Sheboygan, WI and Bucyrus, OH claim to be the Bratwurst Capital of the World. Bucyrus has a larger annual Bratwurst Festival. Sheboygan has the largest bratwurst manufacturer.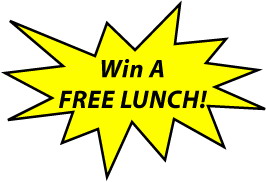 Please Join Our
Customer List
For Your Chance to Be a
Winner!

---
~ The Movie Quote Quiz ~


"Listen to me, mister. You're my knight
in shining armor. Don't forget it.
You're going to get back on that horse
and I'm going to be right behind you,
holding on tight and away we're going to go, go, go!"
Click here for the answer.