FREE DELIVERY!
Call (732) 477-2388
Fax (732) 477-2630
or
ORDER ONLINE!

748 Mantoloking Road
Brick, NJ 08723
Welcome to China Express II!



~ Today's Trivia ~

In 1890 women baking at home produced more than 80% of the bread eaten in the United States. By the late 1920s, 94% of the bread eaten was baked by men in commercial bakeries.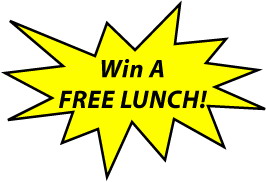 Please Join Our
Customer List
For Your Chance to Be a
Winner!

---
~ The Movie Quote Quiz ~


"Pay up, Mortimer. I've won the bet."
"Here, one dollar."
"We took a perfectly useless psychopath like
Valentine, and turned him into a successful
executive. And during the same time, we turned
an honest, hard-working man into a violently,
deranged, would-be killer!"
Click here for the answer.